Product Description
EXPRESSIONS BUST SECRET CREAM


– Activation of cells in the thighs, buttocks, abdomen, and other parts of the body can help to  eliminate fats.
– The sucking and massaging action gets deep under the skin to help smooth and repair the cellulite, loose or dimple skin.
– Removes unwanted cellulite, sagging skin, belly fat and stretch marks in the comfort of your home.
– Improves the appearance of your legs, arms, buttocks, back and stomach without surgery or exercise.
– Fuller, firmer breasts, firmer breasts enhances flexibility which gives an image of of youthful vitality.
– Accelerates blood circulation of the breasts
– Re-balance the endocrine disorder, preventing breast lumps.Solid Witness
How it works?
The breast is made up largely of fatty cells and these fatty cells are found in our blood stream as well as other parts of our body.
By using the suction power of this breast enhancement pump, it is able to attract the fatty cells in the blood stream and accumulate them in the breast area, making them larger, fuller and more attractive. On top of that, since this breast enhancement pump will attract fatty cells from other parts of the body and accentuate them in the breast areas, it'll produce a certain degree of slimming effect while developing the breast size you desire.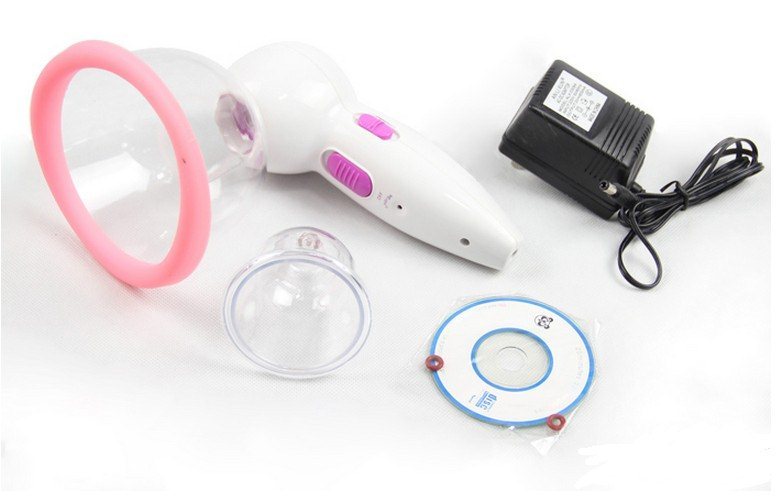 How long does it take to see the result?
5 days – 1 inch of growth
10 days – 2 inches of growth
20 days – 4 inches of growth.
Age Chart:
12-18 years old (breast development):  helping breasts be fully developed
19-28 years old (breast slow period): adjustment function of the breast to enhance breast growth
29-38 years old (breast stagnation):  activation of breast tissue, so that the breast toward vibrant, full, firm and flexible.
Above 39 years old: (breast recession): prevention of breast organizational function degradation and atrophy of lesions, implementation of functional reconstruction of the breast.
Product Usage
1. Take a shower before using the product so that you can clean the skin of your breast adequately to enhance metabolism to the best effect
2. Listen to music or take adequate rest to fully relax yourself physically and spiritually before using the product.
3. Turn on the absorption switch, and then adjust the high strength switch. after turning on the high strength switch, adjust the intensity to high, until the absorptive forces compact your breast before your breast is encircled. Then retreat by a segment towards the low direction( now your breast will be absorbed and released) which is the best case for your breast enhancement)
4. After finish using this product, clean the unit by using water or alcohol, and keep it properly after it dries up.
Product packaging
Color: White
2 sucking cups: L: 12cm  S:7.2cm
Time for charging: 8 Hours
Voltage: 110V 60Hz  200V 50Hz
Charger: DC3V,800mA
Absorptive Force: 55Kpa
Every package comes with a body of the unit, charger and 2 sucking cups
FAQ
Q. Is it Safe?
A. There have been a number of studies and tests, and no damage or risks have been found. Tension-induced growth has been used for over 30 years in other areas of the body, There are no side effects or health risks.
Q. Is it painful when using the Breast Enlargement Pump?
A. No, If you follow the complete directions, there is no pain or discomfort when using the Breast Pump.
Q. Are there any side effects?
A. There are no known side effects, besides breast growth.
Q. How often do I use the Breast Enlargement Pump, and for how long at a time?
A. Using it longer and more often- does produce faster results.
Q. Does your Breast Pump work on males and females?
A. Yes, it works on any breasts, the pump stretches the breast tissue over and over again. It is called soft tissue expansion. It is a lot like working out your muscles repeatedly
Q. Can I pump for an hour, will that give me better results?
A. No. To get better results, pump more often but try to stick to 30 minutes a day.
                                                                   Add on Bust Lifting Serum to see more effective results!
Bust Lifting Serum resculpts and firms the bust, helping to regain its natural support and volume. The combination of Pueraria Lobata and Soy Extract restructures and increases the elasticity of skin, resulting in smooth and strengthened skin, offering a rejuvenated appearance and an increase contour and curve of the bust line.
Read Blogger's Review Zelene on the Efficacy of Bust Secret!
"Even though I have been using Expressions Secret Bust Cream for 2.5 weeks, some magic has already started working on my boobs. Firstly, my skin tone around my boobies has gone lighter. Secondly, my boobs indeed became firmer, and not as saggy as before even without my bra on."
Click HERE for full reviews!
[Product Information]
Product name : L'AFFAIR BREAST 36 HYDROGEL PATCH
Mask form : Patch
Volume : 18g (9g x 2)
Packing spec : 2patch / pouch, 5pouch / case pack, 40packs / carton
Skin type : All Skin Types
Country / Region of manufacture : Korea
Details
Special volume care for women's beautiful upper body line. Customers can experience high quality breast patch with Combining spandex and highly concentrated hydrogel.
 [How To Use]
[Caution]
Avoid using on blemishes, pimples, irritated or sunburned skin.
Stop using and ask a doctor if skin becomes red, swollen, itchy during the use above symptoms persist after use
Keep out of eyes. If eye contact, rinse with water
Avoid using on skin, which is sensitive to bandages or tapes.
Avoid storing under direct sunlight or high & low temperature.
Keep away from the reach of children.
For preventing dryness, use mast at once after opening the pouch.