Description
Your No. 1 Trusted Brand In Singapore

EXPRESSIONS DETOX HEALTH-KIT
     VISIBLE RESULTS IN JUST 3 DAYS   
(
Proven results
below)
ORIGINAL 3 DAY DETOX KIT/DIET PLAN INCLUDES WHEAT BRAN, FORMULA C, FORMULA D ONLY!
Best way to lose weight/detox/cleanse (weight loss plan)
– Expressions 3 Day Detox kit
New Packaging and Improved Formula!
BEST PRICE!
 The Detox Kit Includes: 
Formula C (Upsized to 90 cps) * 1
Formula D (Upsized to 90 cps) * 1
Wheat Bran (90 cps) * 1*
Expressions Maple Syrup is sold separately!
HIGHLY RECOMMENDED!*
LOSE 3KG IN JUST 3 DAYS!

RECOMMENDATIONS
(*CLICK ON IMAGE*)"After 3 days detox, i feel my body feel lighter." (Yuni, 2016)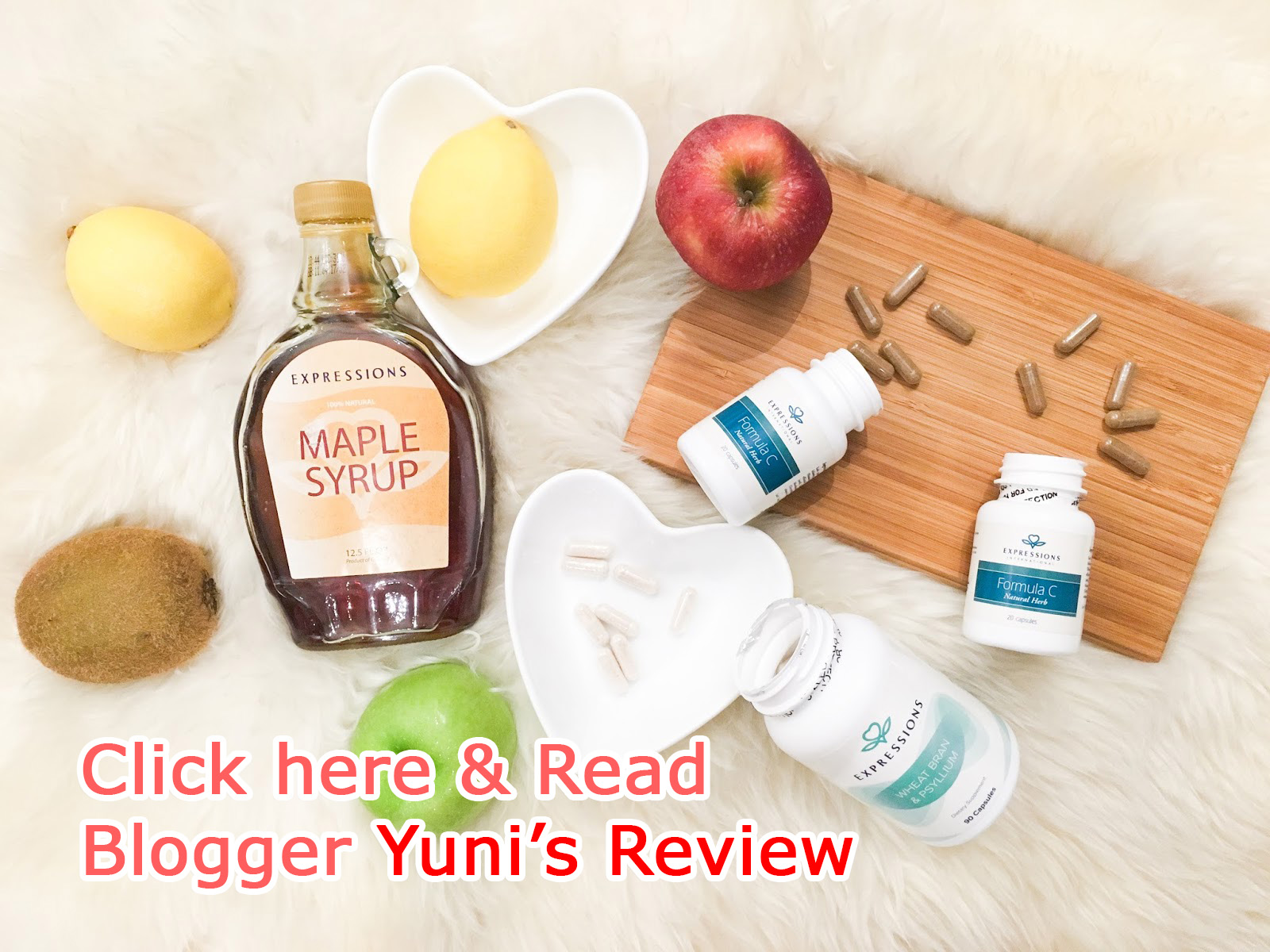 Proven Results by local blogger
Bong Qiu Qiu 

*disclaimer – Results may vary base on the individual.
" I find it quite amazing how Expressions can make me, from feeling like a disheartened and fat new mom, to a hot mom now " (QiuQiu, local blogger)

STILL NOT CONVINCED? MORE REVIEWS!!!

"Yes, my body weight went down by 1.9 Kg and my body fat went down by 0.5% by my metabolic rate has gone down slightly." (Denise, 2016)
 PROVEN RESULTS!

 *disclaimer – Results may vary base on the individual.
*disclaimer – Results may vary base on the individual.
INTRODUCING EXPRESSIONS 3 DAY MASTER DETOX KIT
CLEANSE YOUR COLON AND SLIM DOWN IN JUST 3 DAYS
Expressions' detoxification program is designed to clean out mucus, toxins & other waste material from the intestinal tract and other major organs. (These toxins contribute to excessive weight gains and pollutes the body system.) With Expressions 3 Day Detox, our organs are able to function much more effectively & thus restore new energy for a healthier glow.
EXPRESSIONS NUTRITIONAL SUPPLEMENTS
✓ Approval by HSA (Health Science Authority) & FDA (Federal Drug Administration)
✓ Produced by a panel of physicians and nutritionists
✓ 100% natural, safe.
The Expressions Detox Health-Kit Product Description
This synergistic combination of 11 herbs works together to help rid of liver, kidney and bowels of toxins and bodily wastes.
Made from a combination of 10 herbs. Contains a bowel tonic and Rebuilding Formula, helping to improve intestinal absorption of vital nutrients while decreasing the absorption of toxins.
A superior fibre that speeds up the body's processing time, providing important vitamins, minerals and other nutrients. Curbs hunger pangs and prevents constipation. Helps lower cholesterol level and cleanses the intestinal tract.
Expression Grade A Maple Syrup
Expressions' maple syrup is a great way to mix a healthy fat-free drink that's sweet but low in sugar. Maple syrup contains vitamins, minerals, amino acids and balanced sugars that makes it an ideal cleansing drink when mixed with water and lemon juice.
This mixture of maple syrup, water and lemon juice cleanses the digestive tract and improves the elimination of impurities from the body.
       
*Upon purchase of Expressions' DeTOX Health-Kit, you will receive a 3 days instructions guide.
Benefits of Detoxification:

Cleanse the digestive tract
Purify major organs
Improve elimination of toxins
Mental clarify
Reduce dependency on sugar, caffeine, alcohol, drug, etc
Detoxification also help to treat following signs:
Allergies
Headaches
Mental confusion
Digestive irregularity
Body odour or excessive perspiration
Bad skin
Dependency on sugar, caffeine, alcohol, drugs, etc
Lack of energy
Overweight
Constipation
*disclaimer – Results may vary base on the individual.
BETTER SKIN!
MUCH RADIANT COMPLEXION!
HEALTHIER BODY!
&
IMPORTANCE OF DETOXIFYING
Body detoxification has been part of healthy cleansing for thousands of years. It has been the foundation of every culture's healing philosophy for health and well being.
Due to various pollutions in our environment (especially with the ongoing haze), residues from drugs, preservatives, processed food and unwanted waste are trapped in our bodies. The detoxification process is essential for maintaining a healthy body and lifestyle.
The Expressions Supplements are
100% natural and safe
PURIFICATION Detox PROGRAM
– Consumers are able to take fruits and other healthy substitutes for this programme if they are unable to resist hunger pangs. 
*Purification Programme has slightly moderated dosages targeted for consumers who like to intake fruits and veggie– Consumers in this program are solely "Cleansing" itake of lemon juice and maple syrup +Fruit and veggie diet.

PURIFICATION PROGRAM
*Drink with Maple Syrup & Lemon Juice

Day 1 – Morning: 8 Wheat Bran, 2 Formula C, 2 Formula D
&
– Evening: 8 Wheat Bran, 2 Formula C, 2 Formula D
Day 2 – Morning: 8 Wheat Bran, 2 Formula C, 2 Formula D
&
– Evening: 8 Wheat Bran, 2 Formula C, 2 Formula D
Day 3 – Morning: 8 Wheat Bran, 2 Formula C, 2 Formula D
&
– Evening: 8 Wheat Bran, 2 Formula C, 2 Formula D
How to prepare the Maple Syrup drink
In 1 bottle (1.5ltr) of distilled water, mix with 1/3 of Maple Syrup, squeeze juice of 2 lemons.
Remember to mix well and at the same time, drink lots of water. 
Caution
At Expressions we do not diagnose or prescribe, neither do we replace your physician(s). We recommend patients under any medications to consult your physician for advice.
ReviewToxin Contributors:
Alcohol
Drugs
Coffee
Carbonated drinks
Cakes,biscuits, sweets
Sugar
Processed and refined foods
Artificial additives, colourings and preservatives
Smoking
Stress
Pesticides
Radiation (e.g. mobiles, microwaves)
Environmental pollution (e.g. car fumes, air-condition)

Toxin Prevention:

Drink water
Fresh fruit
Vegetables
Essential Fatty acids (organic Omega 3 seed oil blend)
Salads
Herbal teas
Herbal supplements
Antioxidants
Dry skin brushing (stimulates micro-circulations)
Salt baths
Sauna
Massage (stimulates lymphatic drainage)
Exercise

*FORMULA 2*

AFTER THE JUICING DETOX PROGRAM, YOU MAY PROCEED WITH OUR WEIGHT LOSS PROGRAM WITH OUR BEST SELLER FORMULA 2!

A combination of Natural Herbs that help your body to:

■ BREAK DOWN CELLULITE

■ ELIMINATE BODY WASTE MATERIALS

■ REDUCE WATER RETENTION

■ INCREASE BLOOD CIRCULATION

■ APPEASE APPETITE NATURALLY


Direction of use
2 – 4 capsules before each meal (3 times daily).

*An ideal combination with SlimJuice, Aroma Slimming Cream or Lavender Slimming oil for greater effects.

Key Ingredients

Chick Weed – Helps to treat blood toxicity and reduce excess fats stored in your body. It also helps to protect you from damaged or inflamed tissues.
Licorice Root – It treats adrenal insufficiency and helps to counteract stress.
Bladderwrack – Helps to reduce excess fats and tackle overweight issues.
Burndock Root – It treats water retention and urinary tract infections.
Parsley Root – Boosts your energy and further tackles water retention and bladder infections.
Hawthorne Berries – It stabilises your blood pressure and enhances blood circulation.
Fernel Seed – Relieves gas and bowel pains. Helps to lubricate the intestines to improve bowel movement.

BURNS FATS EVEN DURING MEALS!

" I find it quite amazing how Expressions can make me, from feeling like a disheartened and fat new mom, to a hot mom now "
(QiuQiu, local blogger)
*Click on image below to see review* 



EXPRESSIONS FORMULA 2 HERBAL FAT BURNING.
100% NATURAL HEALTHY WEIGHT LOSS

WEIGHT LOSS PROGRAM INSTRUCTIONS:
Day 1-3: 3 Day Juicing Detox/3 Day Master Detox
Day 4 – 18: Take 1 pack of SlimJuice every morning and 2-3 capsules of Formula 2 before breakfast, lunch and dinner daily

*Customers must note that all bodies are unique in their composition. As such, the above prescription can only be treated as a general guideline. For a specially tailored weight loss program, pls visit: 

My Wellness Clinique

Over at My Wellness Clinique, we have a team of highly qualified nutritionists and consultants, dedicated to serve you.

Our consultants will conduct a microcontroller based BMI test to assess your body health and daily calories intake. We will also provide our professional advice and craft out a personalized nutrition guide just for you.

Each of this nutrition guide will consist of an integration of a dietary plan, supplements, exercise routines and even relaxation regime.

Come join us today and begin your fulfilling journey to achieving a well-balanced and ideal lifestyle.

Make an appointment now!
Email us at: customer@exps.co

Contains a combination of pure natural herbs that work together 


to strengthen the elimination system

This herbal supplement helps to appease the appetite.
It also helps the body to break down and dissipate excess fat around the heart and other vital organs.

Check out Expressions' range of slimming services with

Qiu Qiu!
Bloggers Review
*disclaimer – Results may vary base on the individual.
*disclaimer – Results may vary base on the individual.
Shedding of excessive water and waste is the start of your weight lose program, after 3 days.
Expressions 3-Day Detox Kit Includes:
1 bottle of Wheat Bran (90 Capsules) , 1 bottle of Formula C (20 Capsules) & 1 bottle of Formula D (20 Capsules)
It is recommended to read our

guidelines

in the intake of this program.
*disclaimer – 
Results may vary base on the individual.
*
Expressions Detox Kit consist of 3 specially formulated products made in the USA to help anyone looking for an all natural way of detoxification the perfect solution.
Expressions Formula C is  a supplement unlike others, our propriety blend is formulated with organic herbal ingredients.
Expressions Formula D focuses on cleansing and detoxification of your inner body system. Enriched with 11 different herbs that helps to remove toxins from your liver and kidneys.
Expressions Wheat Bran & Psyllium is a pure vegan supplement that speeds up the body's food processing time, at the same time providing the body essential vitamins, minerals and other nutrients. It helps to increase your metabolism rate, keeping your body fit and reducing hunger pangs to prevent you from snacking habits. It lowers cholesterol level as well as cleanse intestinal tract. It is made up of clinically tested natural herb which makes it suitable for vegetarians and vegans.
Wheat Bran in particular helps to eliminate and remove toxins from the body which have accumulated and promotes good bowel movement to ensure the toxins are flushed out of the body. In addition, Psyllium nourishes your body with quality fibres and reduces your appetite to prevent you from snacking and overeating without overstimulating your nervous system.