Description
 HAVING CELLULITE PROBLEM ?
WANNA GET RID OF EXCESS FATS ?
MASSAGE THEM ALL AWAY!!!

Latest Generation

4-in-1 Multifunctional Anti- Cellulite Massager

Slim, Tone, Shape, Trim & Contour
It has 720 °C massage head rotation to specifically  target five major slimming problem areas and ignite the fat burning chain reaction.
Experience slimming treatment anywhere and anytime you want.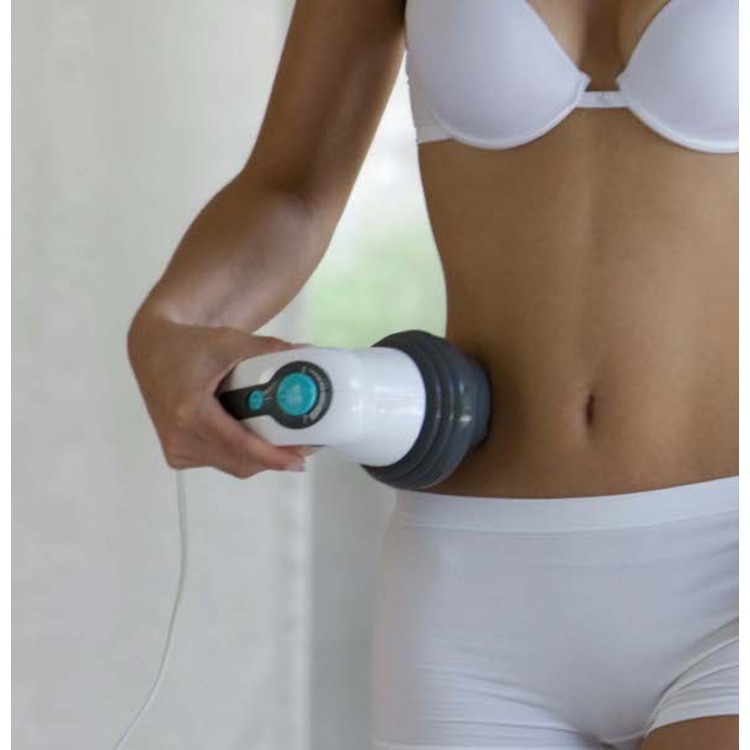 Features
Far Infrared Technology
Thermal massage that helps to promote blood circulation, improve lymphatic drainage and reduce fatty deposit in your body.
Changeable Massage Head
You can choose different massage heads to fit your different slimming purposes.
Ergonomically Designed
Streamline designed for easy grip and operations. It has non-slip rubber for better grip and providing a more comfortable using experience.
Varying Massage Intensity
Choose from low to high, you may pick the massage intensity that you are comfortable.
Powerful motor
Strong motor to create impactful vibration, relieve tired muscle effectively.
Apply Chinese Meridian Scraping Therapy – Gua Sha
Gua Sha can be used to address various sorts of conditions.  Most commonly used to treat body pain, to boost the immune system and to relieve symptoms of the common cold, this modality can also be used to generally balance the flow of qi through the meridians, to resolve certain psychospiritual issues and to innervate areas of poor circulation such as adipose tissue which can have both a detoxifying and contouring effect.
4 different slimming message heads 
Wave Head Massager
Acupunture point massage – To promote blood circulation and improve physical function, works like your professional massage therapist.
Wheel Massager
To relax and de-stress, suitable for arm and thigh massaging.
Anti-dust Mesh Cover
To prevent your hair stuck into machine, to ensure highest level of safety and protection.
Roller Massager
Best suited for aromatherapy massage, for deeper penetration and better absorption of essential oil into your skin.
Pointer Head Massager
Acupunture point massage – Apply Gua Sha Therapy by having deep vibration into your muscle or on your acupressure points.
 Benefits

Get rid of excess fat at your back
Getting rid of back fat is one of the hardest areas to target when losing weight. With EXPS Anti-Cellulite Massager, you can get rid of excess fat at your back in an easy-peasy way.
Bye bye flabby arms
The strong massaging head can help to create tighter arms and you can perform this right at your home.
Banish belly fats
Here's your flat belly trick: Use EXPS Anti-Cellulite Massager for10 minutes a day and you will sexy abs without those boring and tiring workout.
Trim and tone your thigh and detoxify
Losing thigh fat is easy now with EXPS Anti-Cellulite Massager. It also helps with detoxification and prevent constipation by eliminate all unwanted toxins from the body.
Eliminate heavy bottom and lift your hip
Women with pear-shaped figure can now find their ways to make their hips and thighs smaller with EXPS Anti-Cellulite Massager.
Natural bust enhancement
Having a 10 minutes breast massage with EXPS Anti-Cellulite Massager daily can help you to enhance your breast naturally.
Skin rejuvenation and aromatherapy slimming
The massager can be used with Ning Aroma Slimming Cream to reduce stretch mark. You may use the massager with essential oil for skin rejuvenation and aromatherapy slimming purpose
Lavender Slimming Oil can be better absorbed by the skin when Roller Massager is being used.