Description

EXPRESSIONS ANTI-CELLULITE SET
(4-in-1 Anti-cellulite Massager & 200ml Lavender Slimming Oil)
______________________________________________________________________
4-in-1 Anti-cellulite Massager

Latest Generation

4-in-1 Multifunctional Anti- Cellulite Massager

Slim, Tone, Shape, Trim & Contour
It has 720 °C massage head rotation to specifically  target five major slimming problem areas and ignite the fat burning chain reaction.
Experience slimming treatment anywhere and anytime you want.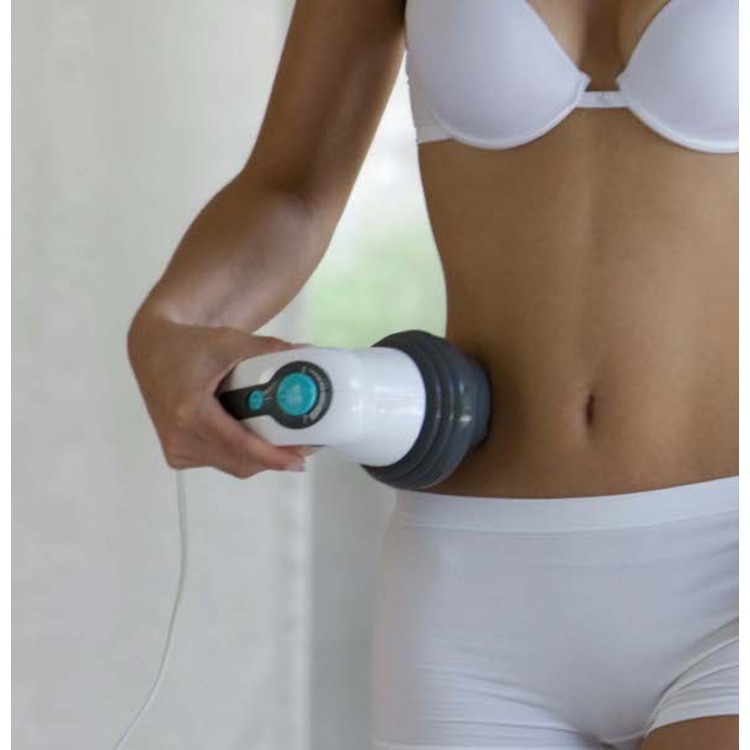 Features
Far Infrared Technology
Thermal massage helps to promote blood circulation, improve lymphatic drainage and reduce fatty deposits in your body.
Interchangeable Massage Heads
You can choose different massage heads to best suit your different slimming needs.
Designed for Comfort
A streamline design for easy grip and handling. It comes with a non-slip rubber for better grip and provides a more comfortable user experience.
Varying Massage Intensity
With intensity levels ranging from low to high, you may pick the intensity that you are the most comfortable with.
Powerful motor
The motor creates impactful vibration to relieve tired muscles effectively.
Chinese Meridian Scraping Therapy – Gua Sha
Gua Sha can be used to address various sorts of conditions.  It is most commonly used to treat body pain. It can also boost our immune system and relieve symptoms of the common cold. This modality can also be used to balance the flow of qi through the meridians, to resolve certain psycho-spiritual issues and to stimulate areas with poor circulation. This creates a detoxifying and contouring effect.
4 Different Slimming Message Heads
Wave Head Massager
Acupunture point massage – To promote blood circulation and improve physical function, works like your professional massage therapist.
Wheel Massager
To relax and de-stress, suitable for arm and thigh massaging.
Anti-dust Mesh Cover
To prevent your hair stuck into machine, to ensure highest level of safety and protection.
Roller Massager
Best suited for aromatherapy massage, for deeper penetration and better absorption of essential oil into your skin.
Pointer Head Massager
Acupunture point massage – Apply Gua Sha Therapy by having deep vibration into your muscle or on your acupressure points.
Benefits

Get rid of excess fat at your back
Back fat is one of the hardest areas to get rid of when losing weight. But with Expressions' Anti-Cellulite Massager, you can get rid of excess back fat easily!
Bye bye flabby arms
The strong massaging head can help to create tighter arms and you can do so in the comfort of your home.
Banish belly fats
Use Expressions' Anti-Cellulite Massager for 10 minutes a day and you will get those sexy abs without having to workout tirelessly!
Trim and tone your thigh + detoxify at the same time
Losing thigh fat is now easy! Expressions' Anti-Cellulite Massager helps with detoxification and prevents constipation by eliminating all unwanted toxins from the body.
Eliminate heavy bottom and lift your hip
Women with pear-shaped figure now have a way to make their hips and thighs smaller!
Natural bust enhancement
Having a daily 10 minutes breast massage with our massager can help to enhance your breasts naturally.
Skin rejuvenation and aromatherapy slimming
The massager can be used together with Ning Aroma Slimming Cream to reduce stretch marks. It can also be used with Essential Oil for skin rejuvenation and aromatherapy slimming purposes.
Lavender Slimming Oil can be better absorbed by the skin when Roller Massager is being used.
______________________________________________________________________
Lavender Slimming Oil (200ml)
The Lavender Slimming Oil is made in Australia, and was awarded by Singapore's Women's Weekly Spa Awards in 2014.

*Disclaimer – Results may vary base on the individual.
Benefits
Lavender Slimming Oil contains a very potent blend of natural fruit oils. It helps to break down excess fat and stubborn cellulite build-up. This combination of oil acts as a diuretic which helps to minimize water retention in the body. This multi-function oil has incredible slimming properties which can also be used for slimming , detoxification and lymphatic massages.
Tone up and firms sagging/flabby skin
Remove excess fat and cellulite
Combats fatigue and stress
Detoxifies
Anti-cellulite
Lipolysis slimming
Improves blood circulation
Contours the body
Reduces stretch marks
DETOXIFICATION
Safe and effective elimination of harmful substances or waste materials accumulated in your body.
SLIMMING – FACILITATES LYMPHATIC DRAINAGE
Efficient removal of excess fat and stubborn cellulite build up. It also prevents the accumulation of under-skin fatty tissues.
ELIMINATION OF SAGGING SKIN
Tones, contours and tightens your muscles in order to prevent and reduce flabbiness and slackness.
REDUCTION OF STRETCH MARKS
Diminishes the visibility and appearance of stretch marks and scar tissues by helping nourish and soften dry and damaged skin.
Ingredients
Expressions Lavender Slimming Oil is made of natural ingredients for slimming, tightening and relaxing properties.
Lemons : Helps improve blood circulation and increase metabolism rate.
Grapefruits : Cleanses the body of toxins, remove water retention and also treats cellulite.
Juniper Berries : Stimulates skin tissue regeneration, moisturizes, tones and tightens the skin.
Oranges : Release fatty acids into the bloodstream then used for energy.
Lavender : Calming, balancing, soothing, reduces scars and stretch marks.
AROMA SLIMMING OIL
Contain very potent blend of natural fruit oils that helps to break down excess fat and stubborn cellulite build-up. This combination of oil acts as diuretic which helps to minimise water retention in the body.
LAVANDULA ANGUSTIFOLIA (LAVENDER)
Calming, relaxing& refreshing, it helps to soothe scars and heals damaged skin (i.e. stretch marks).
CITRUS LIMONUM (LEMON)
Uplifting antioxidant, it improves circulation, eliminates waste and promotes slimming by increasing metabolism rate. It is believed to be able to satiate sweet cravings, thus curbing appetite and food intake.
CITRUS PARADISI (GRAPEFRUIT)
It stimulatesthe lymphatic system, thereby cleansing the body of toxins. It has positive effects on obesity with its diuretic properties – helping to reduce water retention and treat cellulite.
CITRUS SINENSIS (SWEET ORANGE)
This antioxidant and anti-depressantis diuretic andgets rid of bloated tummy. It serves as an alternative for detox, and aid in weight loss and water retention.
VITUS VINIFERA (GRAPE SEED)
Stimulates skin tissue regeneration, it has a very light texture that is easily absorbed by the skin. It moisturises, tones, firms and tightens the skin, reducing skin swelling.
JUNIPERUS COMMUNIS (JUNIPER)
Juniper promotes and improves blood circulation. It also helps in the removal of toxins like uric acid from the body. Both of these properties are essential to relieve swelling, and help fight ailments like rheumatism, arthritis, gout, and renal calculi, which are related to improper circulation and the accumulation of toxins in the body.
Instructions for Use
Apply twice a day – once in the morning and once in the evening (for more effective results).
Use on problem areas such as tummy, thighs or love handles.
Wrap tightly the area for an hour and cover it with a thick blanket to increase your body temperature for effective circulation.
Instead of the wrapping method you can also massage the problem area with the oil to target fat and cellulite.
For Massage Purposes
Can be used for full body or specific areas massage.
For Body Care Purposes
Apply with broad circular movements all over the body. Finish by kneading between thumb and index finger, rolling the skin from thumb to index.
For Slimming Purposes
Apply on problem areas such as tummy, thigh or love handle and use cling fling wrap for an hour. After the wrap, use thick blanket to cover your body for effective circulation.
Reviews
"Overall, I like the scent and texture of the oil. I use it more as a massage body care oil instead of focusing on it's slimming purposes. The heated effect did go off after awhile so don't worry about applying it in the morning. The oil acts well as a body moisturizer and massage oil to relax my stressed body."
– Pearlywerkz by Pearly Tan
*Disclaimer: Results vary based on the individual.