Description
BUY 10 pcs Snow Lotus Mask FREE 10 pcs Vee Mask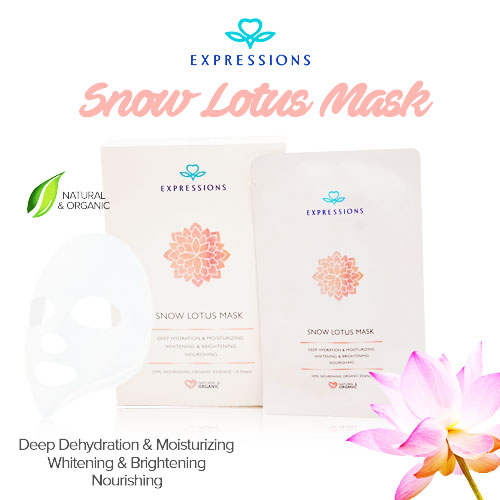 Description
Expressions Snow Lotus Mask formulation allows in-depth penetration of serum into the skin to increase absorption of active ingredients. Snow Lotus Extract enrichment and whitening essence can reduce dark spots and free radical damage. Snow Lotus promotes the production of collagen, nourishment and deep hydration of the skin leaving you with a smooth, soft and naturally radiant complexion.
Benefits
Whitening Effect
Removal of Dark Spots
Collagen Nourishment
Moisturising
Smooth , soft , radiant skin
Active Organic Ingredients
 Orzya sativa (Rice) Extract/
Equisetum Arvense Leaf Extract (Organic Bearberry),
Saussurea Involucrata Extract (Snow Lotus)
Glycyrrhiza Glabra (Liquorice root extract)
Chaenomeles sinensis (Quince Extract)
Aloe Barbadensis Leaf Juice,
Directions of Use


Results
Dark Spots reduction
*disclaimer – Results may vary base on the individual.
Caution
For external use only. Avoid direct contact with eyes. If irritation appears rinse eye immediately. Discontinue if irritation to skin appears. Avoid applying mask on wounded, inflamed or other uncomfortable skin parts. Once product is open, use immediately to maintain freshness and quality.
——————————————-
Expressions Vee mask  
Description
Expressions VEE facial mask is formulated from highly sought after bee venom, an ingredient used in many European cosmetic products. Upon purification and used in high concentration dosage it promotes skin tightening, stimulating blood flow and collagen production. The high concentration of Melittin, a biologically active antiviral agent with anti-inflammatory and anti-bacterial effect, Vee-Mask helps reduce acne and spots. With other natural ingredients such as royal jelly and wild honey that are clinically tested and proven to aid cell renewal, whitening and repair skin damage.
Our youthful formula and uniquely imprinted pattern transfuse nutrients and actives deep into the skin's top layer where signs of aging occur. This targeted nutrient delivery system offers a prolonged release after removal of the mask, continuously powering fundamental active ingredients to the skin cells. The patented water-free delivery system will leave skin rehydrated, radiant, and petal-soft.
*disclaimer – Results may vary base on the individual.
 "I went on to do some research, only to find out that there were so many positive reviews of Bee Venom as a miraculous skincare ingredient. My complexion was more glowy and radiant too and I was so glad that I couldn't see my open pores. " – Tracy